The Fight Against Vine Weevil…
Posted by David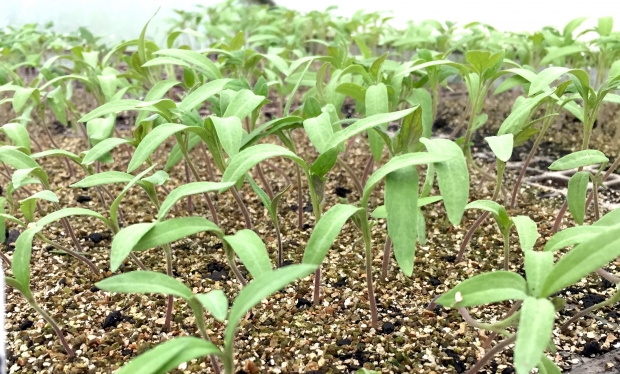 It takes a lot of work to cultivate such fresh, delicious and healthy fruit for your summer picking season; seeding, germinating, planting, watering, pruning, and of course, pest control!
It's not just our customers who are tempted by our delicious fruit; we recently discovered some sneaky vine weevil thinking about munching away on your strawberry plants! Vine weevil is a beetle which attacks a variety of plants; adult weevils eat plant leaves most commonly during spring and summer, although it's the grubs that cause the most damage over the autumn and winter seasons as they indulge on the plant roots! The outcome can be damage which results in the plants wilting and eventually dying - a potential disaster for our strawberry plants and strawberry pickers!
As you know, we don't believe in chemical fertilisers or pesticides, and we strive to use as little as possible, if any. We believe that real food doesn't need chemicals. So how do we ensure we still bring you such succulent, colourful fruit to pick from our fields, without spraying any nasty chemicals all over them, and without vine weevil decimating our crops? Well, luckily we've got the good guys on our side! Meet Steinernema Kraussei. This is the biological name for a microscopic organism that we send through our strawberry irrigation systems. These little soldiers patrol our plants for vine weevil larvae, and should they come across an unlucky trespasser, they enjoy a scrumptious, fresh, local meal! And this allows us, well you, to enjoy our scrumptious, fresh, local strawberries!
This whole system is called Biological Control and is the complete opposite of Chemical Control. It allows us to bring you fresh, healthy, colourful crops without the need for us to spray anything toxic over our plants. Steinernema Kraussei may seem like a long and scary name, but they are in fact completely natural, entirely harmless to us humans, and the vine weevil will never become resistant! So we love them!
This week, our farm team braved the blustery weather and headed out to our orchards to get underway with pruning. They've got a lot to do in preparation for your pick your own season, but with their continued hard work it'll be no time until we start seeing stunning fruit emerging on our trees, ready to be picked by you, our customers. We can't wait and bet you can't either!
As mentioned in last week's blog, our building work is really coming along, and we're set to open our brand new staff room, office and kitchen extension, full of our new all-singing-all-dancing technology, on 11th March. Don't forget, we are closing the restaurant between 6th - 10th March inclusive, whilst we carry out the major parts of the upgrade… it's the perfect opportunity to practise making your own home-cooked fresh local meal! Why not pop into The Market, grab some hearty ingredients and knock something up! Let us know how it goes; we love to hear about our fresh produce being put to good use!
Today we also launch our new weekly newsletter. Be sure to check that out for a more in-depth report of what we've been up to recently, as well as casting your eyes over our monthly supermarket price comparisons.
Have a great week!
The Trevaskis Farm Team
(Pictured above, our tomato seedlings have started to emerge!)