the big summer fruit giveaway
Posted by Jeni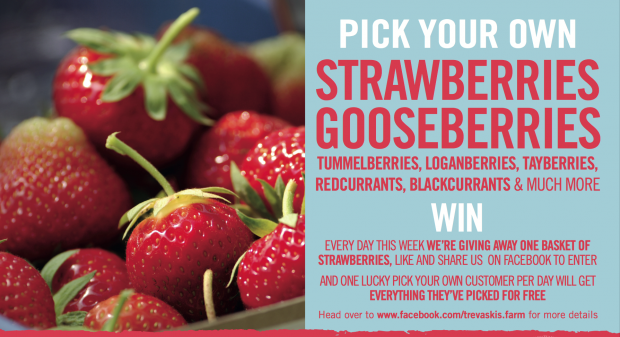 We have an abundance of beautiful fruits on the farm this week, at their prime for picking. Right now is the best time for loganberries, tummelberries and tayberries - get them before they go! And of course plenty of strawberries, gooseberries, raspberries and more.
That's right! We had such a great response to our strawberry competition last week we thought we'd thank you all for taking part with another giveaway...only this time...it's BIGGER!
Every day for the next week there will be TWO giveaways!
1st- a free 5lb basket of strawberries EVERY DAY to one lucky participant, just share and like our post on Facebook to be entered into the draw, we'll pick a winner at random every evening!
2nd - again, EVERY DAY for a week, one lucky Pick Your Own customer will get everything they've picked, for free! What do you need to do to enter this one? Just turn up and pick!
Head over to our Facebook Page now to enter!