Recipe! Scallops with Chorizo and Spinach…
Posted by Jaimie
Scallops with Chorizo and Spinach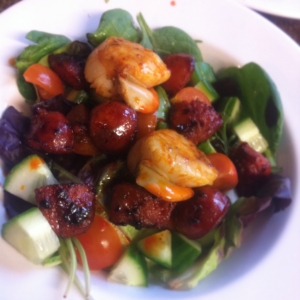 INGREDIENTS
3 tbsp vegetable oil
200g/7oz chorizo, chopped
50ml/1¾fl oz pedro ximénez sherry
1 red onion, sliced
1 garlic clove, crushed
12 tomatoes, skinned, chopped
handful chopped baby spinach
100ml/3½fl oz chicken stock
1 tsp ground turmeric
12 scallops
salt and freshly ground black pepper
METHOD
1 - Heat one tablespoon of the oil in a frying pan and fry the chorizo for 3-4 minutes, or until crisp.
2 - Add the sherry and continue to cook until the volume of the liquid has reduced. Add the onion and garlic and cook for a further five minutes.
3 - Add the tomatoes, spinach, chicken stock and turmeric and cook for 8-10 minutes.
4 - Meanwhile, rub the remaining oil onto the scallops and season, to taste, with salt and freshly ground black pepper.
5 - Heat a frying pan until hot and fry the scallops for one minute on each side. Remove the scallops from the pan and set aside to drain on kitchen paper.
6 - To serve, spoon the chorizo and spinach stew into four small terracotta dishes and top with the scallops.
Enjoy!