Pick Your Own season is here! And so are the Gooseberries!
Posted by David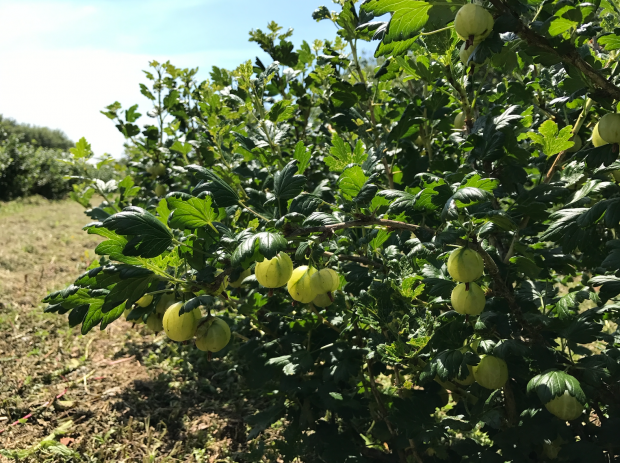 Yes, that's right, Pick Your Own season is in full swing, with crops coming into fruit here, there and everywhere! From strawberries to raspberries, tayberries to loganberries, and gooseberries galore!
These beautiful, juicy fruits aren't only enjoyed by our Pick Your Own visitors, but you'll often spot our Farmhouse Kitchen chefs grabbing handfuls of plump tasty fruit to add that extra taste of freshness to our famous dessert counter in the Farmhouse Kitchen Restaurant.
Fancy having a go at putting together your own gooseberry inspired dessert? Take a look at some of these recipes courtesy of BBC GoodFood. We particularly like this gooseberry crumble, it's so simple to make and tastes great too! So why not pop down to the Farm, grab a Pick Your Own punnet and take home some fresh ingredients to make something delicious!
Calling all avid homemade jam makers! Why not have a try at making some Trevaskis Pick Your Own Gooseberry Jam?! There's a great recipe just here and it keeps for months! Stock up now and enjoy the stunning taste of your very own homemade jam throughout the summer - it makes a great present too!
Keep an eye on our website just here to stay up to date with what's ready to pick from our huge Pick Your Own range of fruit and vegetables as more and more will be coming available in the next weeks and months.
We've had a busy few weeks at Trevaskis Farm! We must thank everyone who visited us at The Royal Cornwall Show - and congratulations to our winners of our RCS Prize Draw! We've had great success with our British Lop pigs, especially at the recent Royal Three Counties Show, with one of our boars qualifying for the prestigious Pig of the Year competition!
We've also got some fantastic news from The Market… we're incredibly excited to announce that The Market has been awarded Best Farm Shop at the Cornwall Muddy Stilettos Awards. This is now the third award The Market has achieved this year, having brought home 'Best Farm Shop' at the Food Reader Awards 2017 and 'Best Produce' at The Golden Oyster Awards 2017! Thank you so much to all our fantastic customers who voted for us, and a very big well done to all our staff for constantly striving to deliver a second to none fresh food shopping experience.
That's all from us for now...
Have a great week!
The Trevaskis Farm Team