New arrivals down on the farm…
Posted by David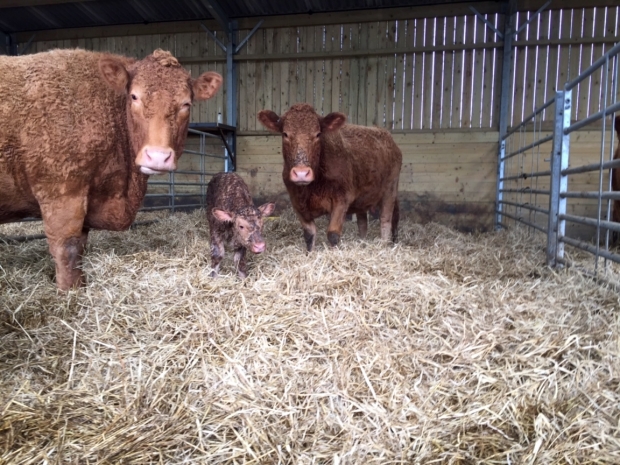 This week we welcomed three stunning pedigree South Devon heifer calves to our herd here at Trevaskis Farm.
These calves are always particularly special as they form part of our old family herd, having been bred by the Eustice family under the 'Tregotha Herd' for generations. Paul Eustice, founder of Trevaskis Farm, was Chairman of the South Devon Herd Book Society on two separate occasions and was credited during the late 1970s with steering the breed through a difficult transition from being a dual-purpose dairy and beef breed to becoming a specialist native beef breed.
We've got a busy few months ahead of us as we anticipate the arrival of 14 more calves to join our three new young heifers! The South Devon is the largest of the native British cattle breeds and is renowned for its quiet temperament. We pride ourselves in providing the highest standards of welfare for our animals, and with Spring just around the corner, our beautiful little calves will soon be spending their time grazing out in the fields with their mothers.
In addition to welcoming the new arrivals, our farm team have been busy this week working on expanding our pick your own range. Set amidst 28 acres of beautiful countryside, we've recently introduced 3 new varieties of blackberry and 6 new varieties of raspberry, continuing to develop our range to give you the longest and best opportunities over the summer months to pick your own produce. We are also trailing a new variety of strawberry this year which may just offer even better flavour fruits than those we already grow….it's a big ask!
You might have noticed that we are currently undergoing a small amount of building work on the farm. This includes a new office and staff room for our team as well as an extension to our restaurant's kitchen. We've got some great plans for our Farmhouse Kitchen Restaurant, which predominantly include the integration of new high-tech kitchen and restaurant systems in addition to a new online table booking system. We're incredibly excited about this upgrade, as it presents a tremendous opportunity for our highly skilled kitchen team to focus even more on working their magic, bringing you innovative new dishes with fresher, higher quality and even more delicious than ever before! We aim to keep you up to date with these upgrades as our plans progress - more information is to come next week in our new monthly newsletter, so keep an eye out for that!
In the meantime, it is necessary to inform our customers that our restaurant will be closed between 6th - 10th March 2017 whilst we carry out the major works to our kitchen. Our Farm Park and The Market will be open as usual.
Finally, this week our butchery launched a fantastic whole and half British Lop pork offer. Our delicious outdoor reared British Lop pork is just £95.00 for a half pig and £180.00 for a whole pig! Perfect to stock up your freezer now in preparation for those sunny summer BBQs and ready to impress your friends with an array of succulent British Lop pork! This offer ends on Friday 3rd March 2017, so get down to our butchery at The Market soon to avoid disappointment!
That's all from us for now; we'll have plenty more news for you next week in our new monthly newsletter. Sign up to receive it here.
Have a great week!
The Trevaskis Farm Team