IT'S BEEN A BUSY WEEK…
Posted by David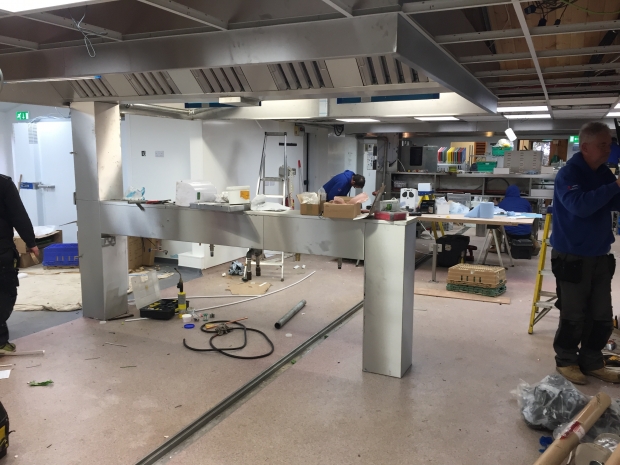 …the new ovens are in, the new kitchen is open and our customers are loving the new coffee!
Last week we closed our restaurant whilst we conducted major upgrades to our kitchen, in addition to progressing our new staff room and office. Our team certainly worked up an appetite completing the kitchen makeover, and we're pleased to say that everything is now in place and up and running. On Saturday our chefs took back control and are once again doing what they do best; bringing you scrumptious, fresh meals from locally sourced ingredients; and of course, they've restocked our dessert counter too! Our new state-of-the-art coffee machine is also now in place, so please pop in and enjoy a new, delicious hot drink (or two!). One customer commented that her Americano was 'the best she had tasted in a long while!'
Bringing you such fresh, high quality and locally sourced food takes a lot of hard work behind the scenes, so we're pleased that our new staff room will soon be open, as it will provide somewhere for our members of staff to relax and enjoy their well deserved breaks. We're just making the finishing touches and hope to have it ready for our team to enjoy in about a week or so.
We're well into March already, and Easter is in sight! Seedlings are emerging, buds are breaking and the chocolate has arrived! The Market is now stocked with a cracking range of beautiful, delicious Easter chocolates; hop along and take a look, you won't be disappointed! But first it's Mother's Day! We've put together some lovely ideas from the great range of products available in the Market, that we believe would make stunning gifts for all those very special mothers out there - come and have a browse for some gift inspiration! Why not treat your Mum to a special lunch or dinner in our Farmhouse Kitchen Restaurant? Book your table soon to avoid disappointment, they're in high demand! Mother's Day breakfast is also a great option; fingers crossed for some sunshine to start the day with a hearty breakfast, followed by a sunny stroll around the farm.
That's all from us for now!
Have a great week,
The Trevaskis Farm Team