Apple Day 2017…The Countdown Begins!
Posted by David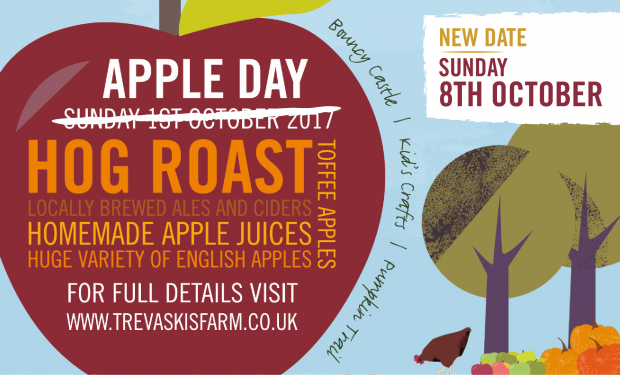 With our annual Apple Day just around the corner, we're so excited to see all our customers and local suppliers who share our love for fresh homegrown produce at our event next week! We couldn't wait to start talking all things apples…so we thought we'd start sharing some ideas for you to make the most of this apple season!
*Due to the adverse weather forecast for the coming weekend, we have decided to postpone Apple Day until Sunday 8th October 2017. We apologise for any disappointment this may cause, and look forward to seeing everybody in what we hope will be finer weather on the 8th.*
With our orchards home to 20 different varieties of apples, Pick Your Own is the perfect opportunity to see the journey from plant to plate and enjoy fresh local produce in a delicious home-cooked meal…
Apple Sauce
A must with roast pork, apple sauce is really simple to make!
You'll need…
230g of Trevaskis own apples (peeled, cored & chopped)
½ a lemon (just the zest)
2 tbsp of water
15g of butter
1 tsp of caster sugar
Simply pop the apples into a saucepan with the water and lemon zest, cover and cook over low heat until they are soft and mushy. Remove from the heat and beat in the butter and the sugar. Leave to cool and enjoy!
Obviously you'll need a beautiful joint of succulent pork for the centrepiece to your roast, so have a chat with our friendly butchery who'll make sure you have just what you need!
Love eating apples fresh? We've got an abundance of Egremont Russet and Queen Cox, firm favourites amongst our customers! If you're looking to try something slightly different, we've got Kid's Orange and Lord Lambourne, and some slightly newer varieties like Fiesta…you're bound to find a variety you love!