AND THE WINNER IS…
Posted by David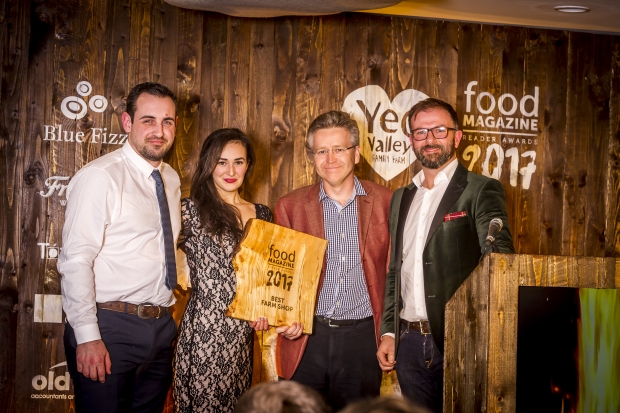 …The Market at Trevaskis Farm! That's right, we're incredibly proud to have been awarded 'Best Farm Shop' at the Food Reader Awards 2017!
Following the exciting news that our farm shop, The Market, had been named as one of this year's grand finalists in Food Magazine's Food Reader Awards, everyone on the Trevaskis team had everything crossed as Seth Ackland, our General Manager, and Natasha Gunn, from our Front of House Team, travelled to Yeo Valley's HQ last Monday to represent Trevaskis Farm at the awards night. They couldn't have come away with better news, The Market, at Trevaskis Farm having been named as the award's 'Best Farm Shop' 2017.
We are honoured to have achieved the award and are proud to bring it to Cornwall! It is such a joy to know and feel the love and support of our customers, as we seek to provide you with the finest and freshest homemade and local produce, all under one roof! So thank you for voting for us!
The school half term holidays are upon us, and love is in the air as Valentine's Day approaches us tomorrow. Why not treat someone special to an exquisite evening meal from our special Valentine's Menu at our Farmhouse Kitchen Restaurant. View the menu here. Tables are booking very fast so get in touch soon to avoid disappointment.
As the new year fast progresses, the farm is once again starting to come to life. Our farm park is open every day from 8:00am - 7:00pm. So, make the most of those moments the sun peeks out from behind the clouds, get the family together, get the wellies out, and come on down to enjoy a great day out at Trevaskis Farm!
Fresh food calls for fresh blogs! This post sees the start of our new weekly blog. Check back here every Monday for the latest, freshest news and offers from us here at Trevaskis Farm!
Until next time, have a great week!
The Trevaskis Farm Team