A Magnificent Start to the 2017 Pick Your Own Season!
Posted by David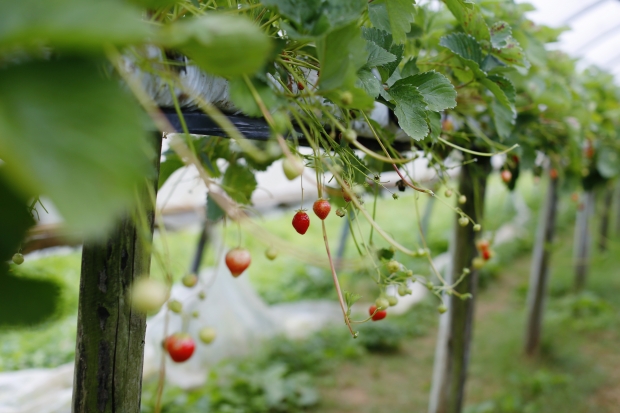 Packed full of glorious sunshine, smiley faces and red juicy fingertips, this weekend saw the start of Trevaskis Farm's 2017 Pick Your Own season, with the opening of our first strawberry polytunnel!
In recent weeks our strawberry crops have come on leaps and bounds, allowing an early kick off to our 2017 Pick Your Own season; the moment everyone had been waiting for! We've had a delightful weekend, and as Sunday brought with it plenty of beautiful Cornish sunshine, it was fantastic to see so many strawberry pickers arriving, sunglasses on and punnets at the ready! What's even more exciting is…this is just the beginning, there's so much more still to come! From raspberries, gooseberries, blackcurrants and whitecurrants, plums, apples, loganberries, tayberries and tummelberries to peas, beans, sweetcorn, pumpkins, squashes and more…what's going to be your favourite this Pick Your Own season?
It's so easy to find out what's picking on our website right here; the minute we open up more polytunnels or have more fruit available to pick, we'll update that page. Keep an eye on it, and remember to check what's picking before you visit.
Thank you to everyone who has shared photos of their strawberry spotting, pony petting, family days out with us. We love to see them, so please keep sharing the fun with us on Facebook, Twitter and Instagram.
Keep an eye out on our social media for weekly offers from the Trevaskis Butchery, which our experienced team will be bringing to you each Wednesday. Planning a roast with the family or a BBQ with friends? Have a chat with the Trevaskis Butchery team, they're always on hand to help you select the best cut for your meal.
That's all from us for now; we'll let you get back to those strawberries...and remember...jam first...
Enjoy the sunny days ahead and have a great week!
The Trevaskis Farm Team